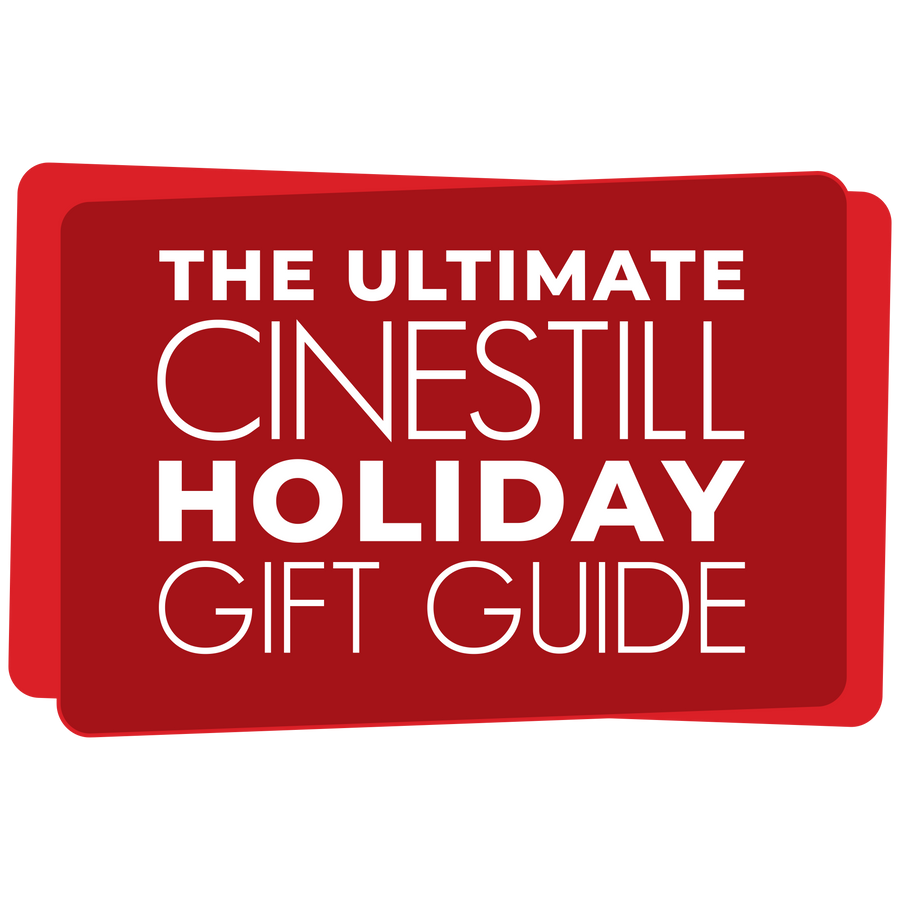 ---
Welcome to The ULTIMATE CineStill Holiday Gift Guide!

 
Whether you're shopping for a seasoned film photographer or someone just starting their analog journey, we've got you covered. Explore our carefully curated selection of products — available on cinestillfilm.com

Purchase any item from our online store and receive a 20% discount code on CineStill merch! (Discount code will be sent via the order confirmation email. Apparel ships separately.)
Is there someone on your gift list that already loves CineStill? Whether that's our film, photochemistry, analog tools, starter kits, or even merch — here are a few items that any analog lover will enjoy, even the ones that have a fridge full of film already! There's always room to expand your gear and equipment for more parts of the analog process. Make your loved one happy this holiday season by (film)stocking them up on their favorite CineStill products!
FEATURED GIFT
The CineStill Family of Color Films — CineStill 800Tungsten, with it's beautifully unique color renditioning and low light capabilities, along with the world's finest grain color emulsion in 50Daylight, significantly increases the usability of film cameras in everyday photography, while opening the door to new possibilities for all photographers! Finally our newest film, 400Dynamic, is a fine grain daylight balanced color negative film that delivers a soft color palette with natural saturation and rich, warm skin tones. For a limited time, save up to $3 on CineStill color films!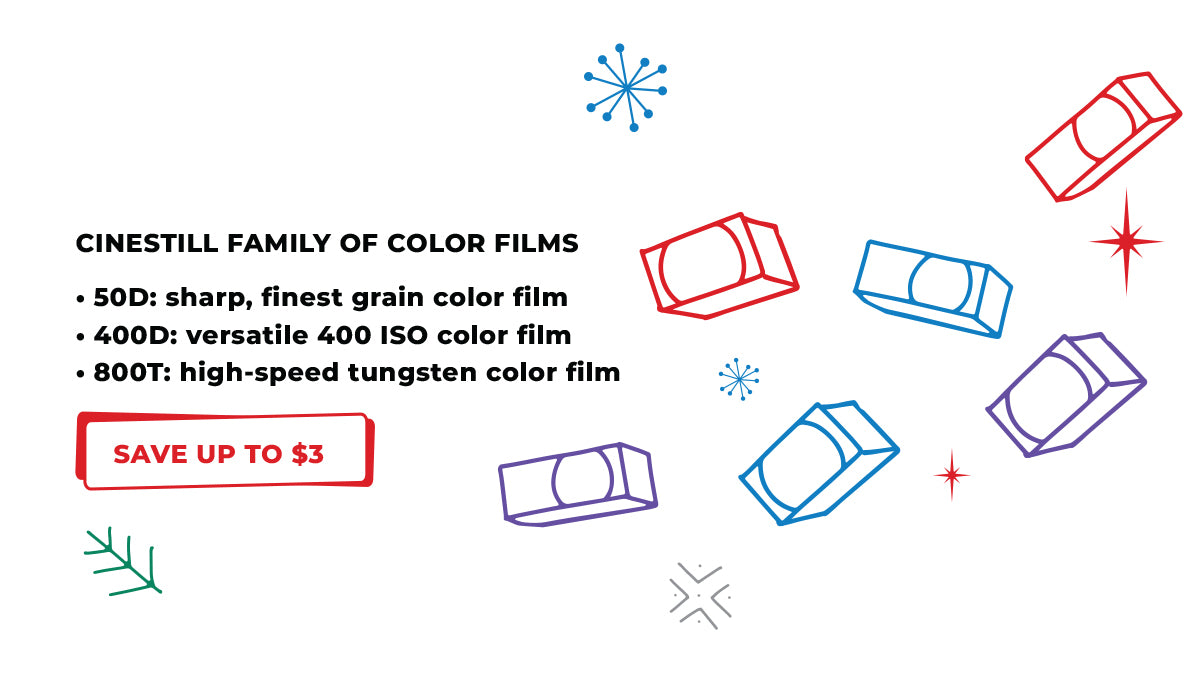 Shop The Featured Gifts
Looking to buy for a friend or family member that just started getting into film photography? Not sure where to start? These gifts are sure to set them on the right path and help new photographers get more out of their first rolls!. From our most versatile film stock to a perfect introduction to at-home processing with our JOBO MONO processing kit, we have something for any photographer at every skill level. For those just looking to have fun and keep it simple, grab a Harman EZ 35 and shoot your favorite holiday moments. Here's a holiday secret: a 5-pack of KODAK Portra 400 is guaranteed to be on your loved one's wishlist! And as a bonus, we created a video to help anyone understand how to get started with film.
FEATURED GIFT
From our catalog of unique film stocks, we suggest our latest: CineStill 400D. For the photographer both old and new who are looking for an extremely versatile film for a wide range of shooting situations! 400 ISO films are great for those just getting started, as it can work in most situations — whether thats outside in the daylight or inside with the natural window light, and looks great with a flash — with 400D, you have options! For a limited time, save $1 on 400D and up to $3 on other CineStill color films!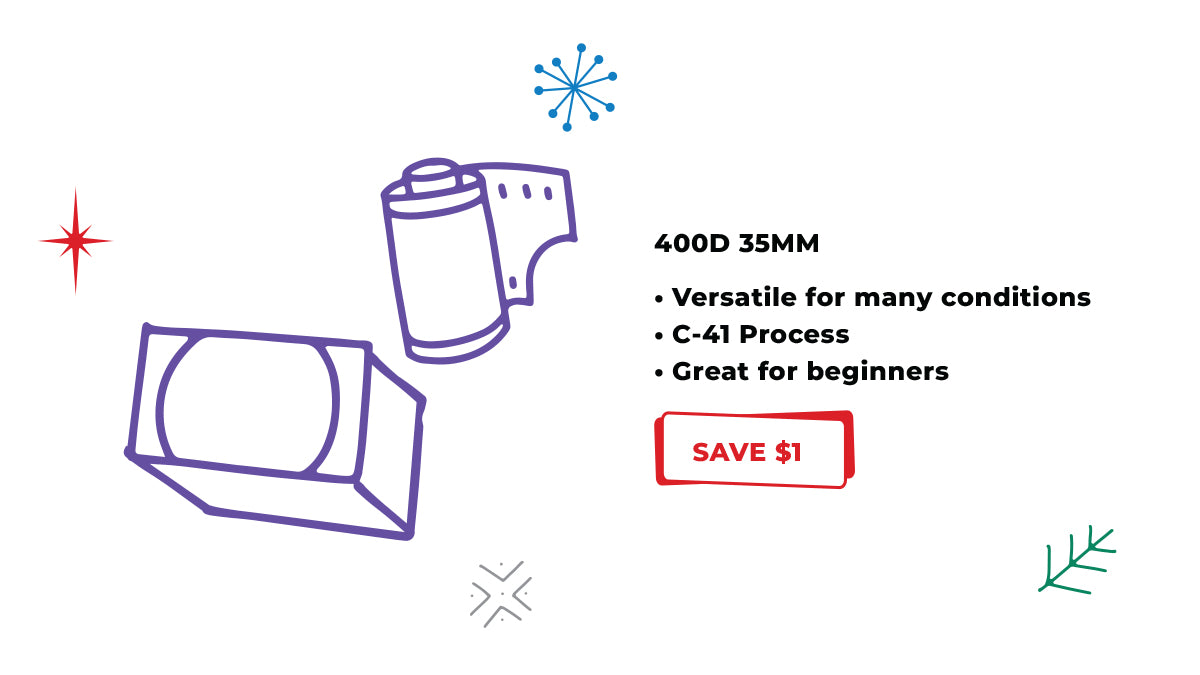 Shop the Featured Gift
Go big this holiday season! Searching for the perfect gift for the medium format (or even large format!) photographer in your life this holiday season? We've got you covered with a wide selection of 120 and 4x5 film for the photographer who picked up a bigger camera and never looked back! You'll love how our products work seamlessly together for your loved ones this holiday season. Spend a day being their subject as they shoot our CineStill BwXX 120 film and don't forget to grab some CineStill 800T in medium format to capture those warm holiday lights in color! For those that want even bigger, check out ILFORD HP5 4x5 film, and then watch as your giftee makes holiday magic at home, seeing their photos come to life with the JOBO 4x5 Processing Bundle.
FEATURED GIFT
CineStill BwXX 120 — Our black and white film is the perfect choice for shooting those cold winter months. When those gray days of winter roll in, black and white film rolls into our camera bodies allowing photographers to focus on light, texture and tones. Don't worry, all the lucky folks in warmer parts of the world will still enjoy this classic emulsion no matter the light conditions! (lookin' at you, California!). This is actually the same exact emulsion (in a very similar size) as what was used in Christopher Nolan's latest movie, Oppenheimer — and we made a video all about it here. For a limited time, save $2 on BwXX 120!
Get the Featured Gift
Do you have a photo scientist in your life? We're talking about the ones who've made a part of their home into a personal darkroom and hang their negatives to dry in the bathroom! We love helping our at-home lab techs bring their work to life themselves. With our wide range of at-home developing products, you'll lose track of them for hours! Just don't open the door to their darkroom! CineStill offers solutions for simplifying how to process black & white film, color negative film, and even color slide film. For a limited time, receive a FREE T6 TungstenChrome 1st Developer with the purchase of any Cs6 slide film processing product!
FEATURED GIFT
Let us guess - you're looking for the perfect all-in-one processing kit for your favorite photographer this holiday season. You want something for your loved one that does it all! You know they love shooting black & white just as much as they love color film: Look no further. Our JOBO DUO Film Processing Kit has EVERYTHING you need to go from a completed roll of film to negatives hanging to dry. Your favorite photographer will be equipped with all the tools, instructions and equipment needed to take control of their workflow this holiday. We even made a video about it right here. The only thing they'll need after using this all-in-one processing kit is scanning equipment to see those gorgeous negatives come alive. And before you ask, we have all you need to get started scanning at home! More on that next…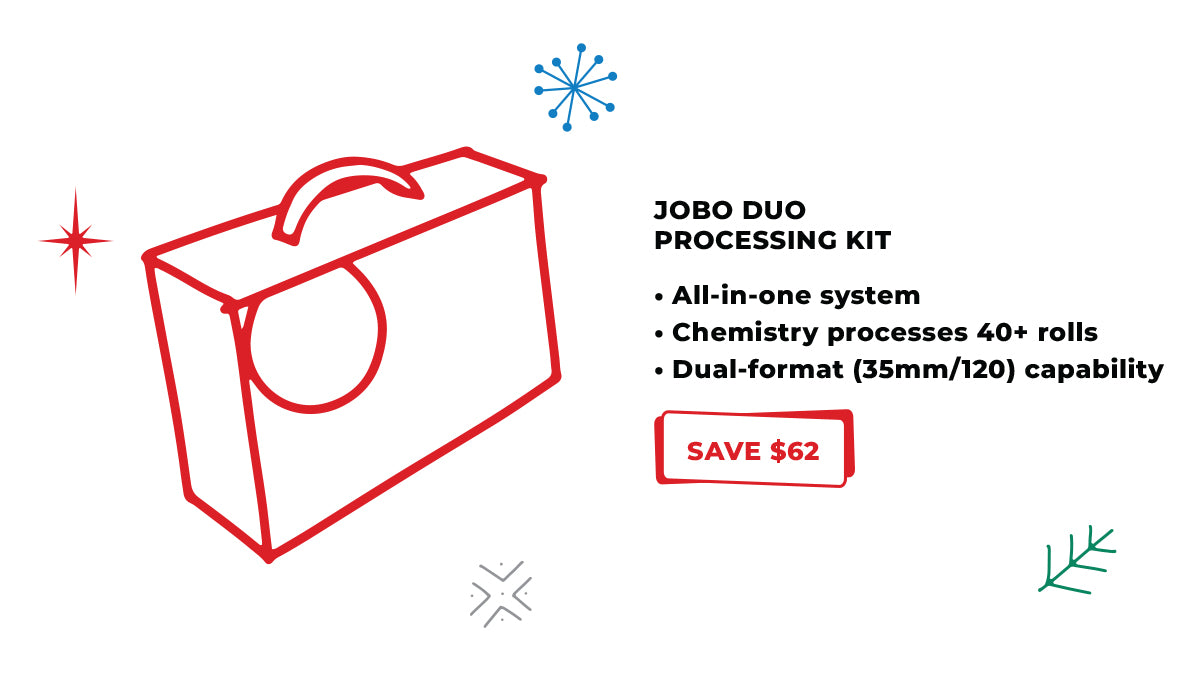 Get the Featured Gift
Maybe your favorite photographer doesn't enjoy working with chemicals at home, but loves the process of scanning their negatives and having complete control over the finished product. Here at CineStill, we offer scanning equipment that works together to bring the best out of your work. Our VALOI 360 Complete Bundle paired with the CS700 Foldable Copy Stand provides you with all the tools you need to get started. Who knew scanning your negatives could be such a positive experience?
FEATURED GIFT
Make your holidays merry and brite this season with the CS-LITE Camera Scanning Light Source! Our light source has a ton of features that bring the best out of your scans, and do so at an affordable price — watch more about it here. It's cold outside, so make sure to bundle this perfect gift with the VALOI 360 holders, making for a great way to get into scanning your film at home! Add on our CS-LiteBrite+ for an additional 130% brighter light!
GET THE FEATURED GIFT
If you're looking for something small that'll put a big smile on your loved one's face, look no further! These gifts under $20 are perfect for any photographer — either as the perfect gift or stocking stuffers. Like our CineStill Pom Pom Beanie, we've got you covered this holiday season. Throw some Film Enamel Pins on it and show off your favorite CineStill stocks!
FEATURED GIFT
JCH 35mm Film Case — A great stocking stuffer for the 35mm film lover in your life! Designed by Japan Camera Hunter, these film cases are essential for protecting, organizing and transporting your unprocessed film. We have them made in custom CineStill red and violet colors, as well as black. They can hold 5 rolls or 10 rolls of 35mm cassettes of film comfortably, depending on what case you get. Pro Tip: grab some of your loved one's favorite stocks and fill this case up for them!
GET THE FEATURED GIFT
Stoverink Walnut Film Cases for 35mm
Crafted from a solid piece of beautiful walnut and decorated with hard white maple, the Stoverink Walnut Film Cases for 35mm are a must have this holiday season. Stoverink Pocket Walnut Film Case for 35mm can hold two 35mm rolls safely in a pocket or small handbag. The Stoverink Desktop Walnut Film Case for 35mm can hold five 35mm rolls safely on your desktop or vanity. Beautiful and durable, each case was handcrafted in a small woodshop in Los Angeles by Fred Stoverink. The fitted lid is held closed by hidden magnets and the film-friendly finish is an oil and wax monocoat that seals and protects the wood. The bottom of the case features a threaded 1/4" mount for use with a tripod. These beautiful cases make for a very special gift for the film photographers in your life!
Film Ferrania P30 35mm
Ferrania P30 has a long and storied history. The most lauded Italian directors of the mid-20th century shot many of their most iconic movies on P30 stock. The look of P30 in cinema became so popular that in 1958, a version was created for still photography. The Film Ferrania team has recreated the formula for the modern stills film shooter, achieving a silver-rich 80 ISO B+W 35mm film stock that provides high-contrast negatives with deep, rich shadows, punchy, sharp highlights, and almost no visible grain. It is proudly made in the revived Ferrania factory located the grounds of the original company in Cairo Montenotte, Italy. For a limited time, save 20% (over $2) on this special Italian black & white film emulsion!
JOBO MONO Film Processing Kit by CineStill
The JOBO MONO Film Processing Kit is the easiest and most economical starter kit you will find for getting into traditional black and white film photography for the first time, and at an unbeatable price! CineStill has partnered with JOBO, the industry leader in film processing tools, to provide the best complete processing kits with everything you need to process film at home. Together we have worked with JOBO to create some exclusive deals. If you know someone wanting to get serious about home developing, this is the kit for them!
To help, we made this step-by-step video on how easy it is to use the JOBO MONO Film Processing Kit to develop your film at home:
---